This Chocolate or Carob Sponge Cake makes a lovely rich cake for special occasions, Chirstmas, Birthdays or just as a little treat occasionally. If you are avoiding Caffeine, Carob makes a great alternative and tastes just as good.
Not for a slimming diet unfortunately. You could replace the sugar in the cake mixture with Xylitol to reduce the carbs and calories.
Chocolate or Carob Sponge Cake - Dairy and Gluten free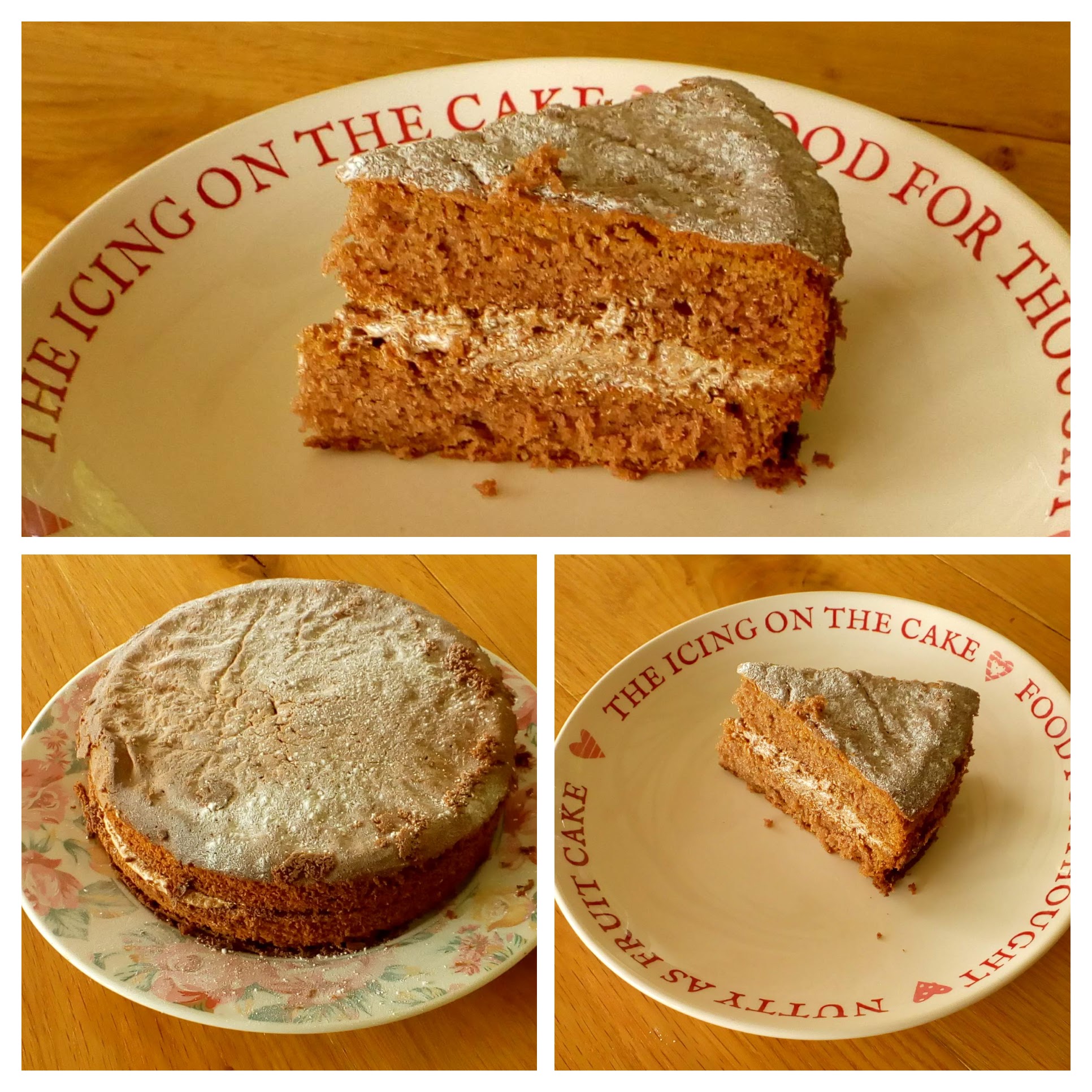 The ingredients I like to use are as follows: Dove's Freee Bread Flour, Tapioca flour from Buywholefoods Online. Not all tapioca flour is the same. I tried another make once and it was sticky Pure Dairy free spread - Sunflower or Soya both work well
Ingredients
3 Eggs
6 oz Caster Sugar
6 oz Dairy free Margarine
3 oz Gluten free flour (I use Dove's Freee Bread Flour)
3 oz Tapioca flour
3 teaspoons Gluten free baking powder
2 tablespoons Cocoa powder (or Carob Powder for caffeine free)
1 teaspoon Vanilla essence

For the Filling

4 oz Icing Sugar
2 oz Dairy free Margarine ( I use Pure sunflower spread)
2 teaspoons Cocoa powder (or Carob powder to avoid caffeine)
1 teaspoon Caramel flavouring
Instructions
Put all the cake ingredients in a mixing bowl and beat until light and fluffy.
Grease and flour two 8" Sandwich tins
Share the mixture out equally between the tins. Bang them on the worktop to make the mixture level out
Put in a preheated oven at 175°C for about 25 - 30 minutes or until the top feels springy to the touch and you don't leave a finger impression on it 🙂
Take out of the oven, run a knife round the outside to loosen from the edge of the tins
Leave in the tins for 5 minutes before turning out onto a rack to cool
For the Filling
Stir all the ingredients together until it's not dusty
Beat until light and fluffy
Spread on to one of the cake halves and put the other cake on top to sandwich them together.
Dust with icing sugar and store in an airtight container.
Notes
You could make extra filling mixture to put on the top of the cake for a special occasion and sprinkle with chopped nuts
https://aunty-lils.co.uk/blog/dairy-free-chocolate-carob-sponge-cake/