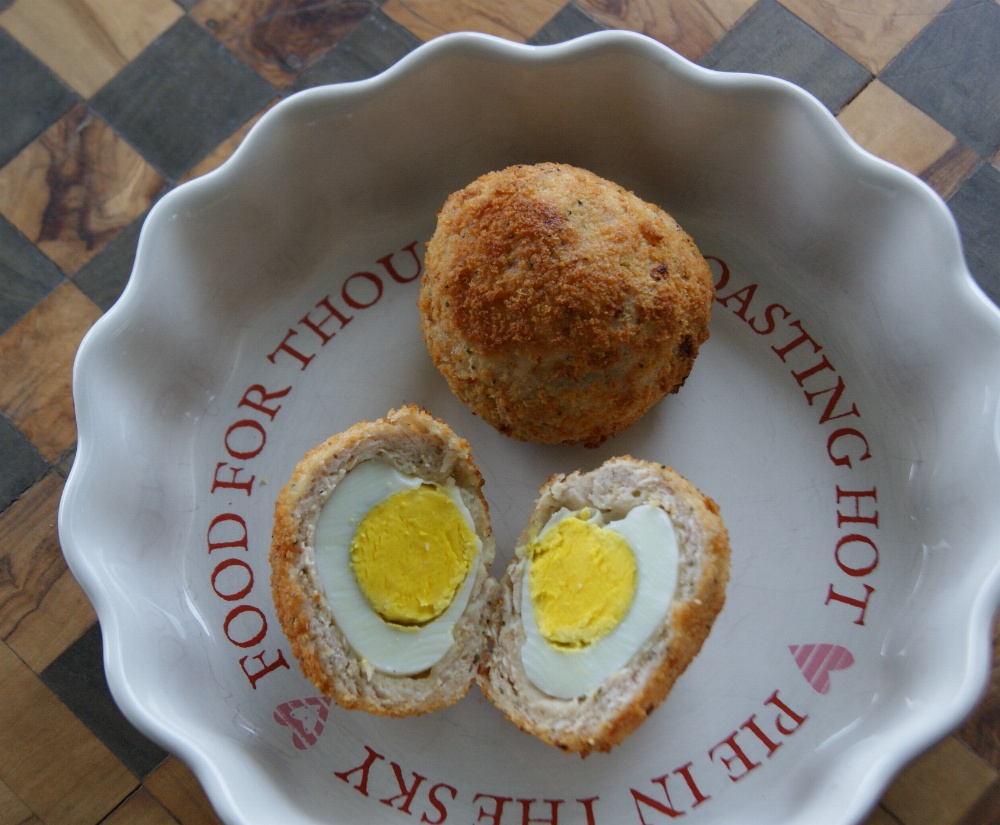 These Old English style Scotch Eggs are made using Turkey mince instead of Sausagemeat, so you can cut down on red meat and processed meat containing Nitrites.
With the Old English seasoning, they taste just like the real thing. And you can also bake instead of frying to make them even healthier.
Healthier Scotch Eggs – Made with Old English style Turkey mince
These alternative Scotch Eggs are healthier than ones made with sausage meat as we are being told to avoid too much red meat and certainly avoid processed foods containing Nitrites which are carcinogenic. If you don't use too much oil, they are also a good low fat snack. They taste just like the real thing with all the herbs and spices to give them the taste of Old English Sausages
Ingredients
500

g

Minced Turkey

1

teaspoon

Black Pepper

1

teaspoon

Salt

Pinch

of Nutmeg

1

teaspoon

Ginger

1

teaspoon

dried Mixed Herbs

2

teaspoons

dried Parsley

1

teaspoon

Garlic granules

1

teaspoon

Mustard seeds

1

teaspoon

Paprika

1

teaspoon

Onion Salt

1

teaspoon

dried Sage

1

tablespoon

Psyllium Husk powder

2

tablespoons

Gluten free flour

6

Eggs + 1 egg beaten

Approx 6 - 8 ounces of gluten free bread crumbs
Instructions
Put the 6 eggs into a saucepan with enough water to just cover them.

Bring to the boil and cook for 4 minutes for softer yolks, or 8 minutes for solid yolks

Mix all the ingredients except the gluten free flour together in a bowl. Gradually add a little water to bring everything together in a firm dough like consistency.

Break off a lump of mixture and roll out into a small circle measuring about 4 inches in diameter and about 1/2 centimeter thick. Use some of the gluten free flour to make it easier to mould

Place the circle on the palm of your hand and put one of the eggs on top. Gently work the meat until it covers the egg, making sure the egg is well sealed inside with no gaps.

Dip each scotch egg in the beaten egg mixture, then roll in the gluten free bread crumbs until well covered.

Preheat oven to 180°C

Spray the scotch eggs with low cal oil, or roll them around in some cooking oil to lightly coat

Place the scotch eggs on a baking tray in the middle of the oven for approx 20 - 25 minutes until golden brown.

Enjoy!
Notes
If you leave out the Psyllium Husk powder and use wholemeal breadcrumbs to coat the eggs and use low fat spray, then they are virtually 0 syns for the Slimming World Diet