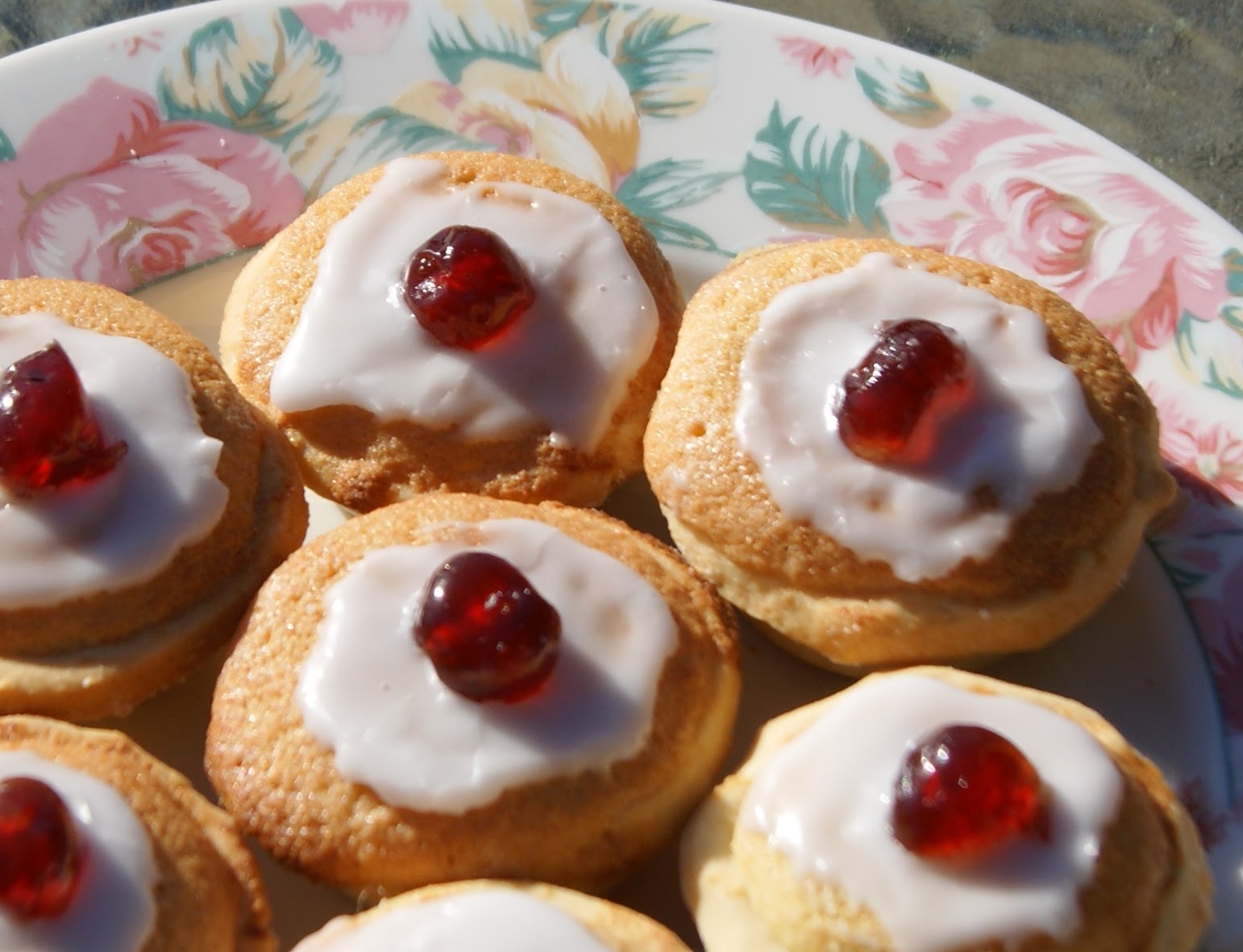 These tasty little Bakewell Tarts won't help you if you're on a Slimming Diet but they are really moreish. Once you've had one, it'll be hard to resist a second one. The pastry just melts in your mouth. Gluten free pastry has a reputation for being hard. But not when you use my recipe. 
Small Bakewell Tarts – Gluten and Dairy Free
Delicious Melt in the Mouth Cherry Bakewells. You won't believe they're free from Wheat, Dairy and Corn. You could substitute the sugar for Total Sweet to reduce the amount of calories and carbs
Ingredients
2

oz

Caster Sugar

or Total Sweet if you want to go sugar free to reduce carbs

2

oz

Dairy free margarine

2

oz

Ground Almonds

1

Tblsp Gluten free flour

1

egg

3

drops of Vanilla Essence
*Pastry Ingredients*
9

oz

Gluten free Self Raising flour

I use Glebe which doesn't contain Corn

3

oz

Dairy free margarine

I use Pure Dairy free Sunflower or Soya Spread

3

oz

Caster Sugar

or Xylitol for less carbs

1

egg

pinch

of salt

4

oz

Raspberry jam for filling

Seedless

2

oz

Icing sugar mixed to a paste with a little water for topping

6

Glacé Cherries - Halved

I like the dark red ones
Instructions
To make the Frangipan
Beat sugar and Dairy free spread until well mixed, add the egg and vanilla, then stir in the Almonds and Flour until a nice smooth mixture.
To make the Pastry
Mix the Sugar and Dairy free spread together with a wooden spoon but don't over beat.

Add the egg and beat in until mixed thoroughly

Gradually fold in the flour and if it's too sticky keep adding more flour until it's brought together like normal pastry.

Wrap in clingfilm and put in the fridge for at least 30 minutes or until well chilled.

Sprinkle flour on a board and roll out the pastry very carefully. Dust the top of the pastry as well to stop the roller sticking to it.

Cut into 12 rounds and place them in a shallow hole cake tin. I find lifting them up with a cake slice works really well. If you break the pastry, just patch it up.

Put a teaspoon of jam in each tart

Spoon the frangipan mixture over each tart, covering the jam (see picture)

Place in the oven for approx 20 minutes until a lovely golden colour and risen nicely

Top the Bakewells with the Glace Icing and Cherries or for a change Flaked Almonds