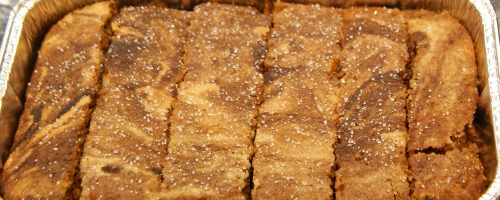 These are rather tasty but also low in carbohydrates. I made them in a small foil baking tray from Waitrose. But you can use any small baking tray you have to hand (Approx 6 x 5″)
You need half the mixture of the reduced carb sponge cake
Mix 2 tspns carob powder to a paste with warm water. Then stir it into the cake mixture to make it look marbled. Spoon it into the baking tray.
I use Carob because it doesn't contain caffeine, which is useful if you have IBS.
You can always substitute the Carob for Cocoa powder. Not drinking chocolate though as that contains sugar.
Bake at 180° C,  350° F, Gas Mark 4 for about 15 mins, until springy to the touch.
15 grams of carbohydrates  for all 6 slices.
3 units per 6 slices.
1/2 unit per slice on Aunty Lils 'Low Carb Unit Counting Diet'