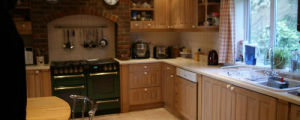 Or, how to paint any wooden kitchen.
When we built our house 16 years ago, I designed the kitchen and have always loved it. We actually bought it from Wickes, and I believe the quality was better back then than now.
Over the years, as damp has got into the panelling, it started to discolour and no amount of cleaning would get it looking perfect again.
I didn't want the hassle of having a new kitchen fitted – besides which, I couldn't find one I liked as much.
So, I decided to try and paint it.
I'd heard that the Farrow & Ball Eggshell Paint was really good on wooden furniture, so I emailed them and asked how I should go about preparing my cupboards, as they had a sheen on them and were limed oak.
I had an email back from them very promptly telling me I should use sugar soap and rub down the face to remove any grease and grime plus taking the surface off slightly. Then to apply one coat of their primer and two coats of eggshell.
So, I went to work on removing each cupboard door, drawer front and anything else that was removeable. Not all at once as I had to use the kitchen. Also, I had to find space to leave the doors to dry before hanging them back on the cupboars. 
So I did a couple of doors a day. This took about a month overall and I was overjoyed with the result. I used the small gloss paint rollers so I didn't get any brush marks and made sure I got them with the foam covering the end, so the metal rod couldn't scratch corners whilst painting.
I didn't believe 2 coats would be enough, but it definitely was.
I used 'Dimity' as the paint colour to start with but when I finished it, everyone said it looked like a white kitchen, so a few weels later, I repainted it in White Tie, which is much more of a country cream look.
To finish off the effect, we had new Prima worktops and breakfast bar – Olympus
When it was finished, my cooker became beyond repair, so I got a brand new Rangemaster in Cranberry, with a ceramic hob.
I love it. I wasn't too sure about the colour but now it's here, it's brilliant. And the hobs and ovens heat up so quickly. My last one took forever.
To finish off the look, we laid an engineered oak floor from Wood & Beyond, in a rustic oiled and waxed finish, so it doesn't show up scratches from dogs running through it. And warm oak venetian blinds from Blinds2go.
Since writing this post, I've repainted my kitchen and have reviewed my now, defunct Rangemaster … Read More