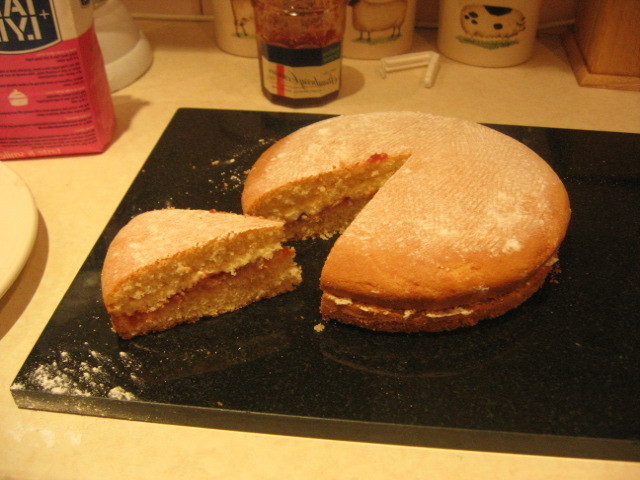 This whole cake has a total Carbohydrate value of 80 grams.
If you follow Aunty Lils Unit Counting Diet, a portion (1/8) will count as 2.5 units.
I find it's best cooked in loose bottomed non stick sandwich tins approx 8″ diameter. But you can use any cake tin you like, just bake until it feels fairly firm on top. When you touch it gently with your finger, it should spring back.
This is a great cake for people who can't have wheat flour because cakes made from things like rice flour have more of a powdery or dry texture. But the addition of almonds makes it more moist like a 'proper' sponge cake.
Victoria Sandwich – Reduced Carb
This sponge is only 80g of carbohydrates for the whole cake. Cut into 8 slices means 10g carbs per portion
Ingredients
6

oz

Dairy Free Spread

I use Pure Dairy Free spread

6

oz

Granulated Xylitol

I use Total Sweet as it's very safe and tastes very like sugar

3

whole

Eggs

3

oz

Gluten free flour

3

tspn

Baking Powder

Gluten free

4

oz

Ground Almonds

3

drops

Vanilla essence
Instructions
Preheat the oven to 180°C, 350°F, Gas Mark 4

Beat all the ingredients together with an electric mixer until light and fluffy.

Put into 2 8" sandwich cake tins and cook for approx 35 mins.

If you have a fan oven, 160° will probably be a high enough temperature.

I don't bother greasing my loose bottomed tin as it's easy to remove when cooked (this is because you're not using real sugar) with something like a pallet knife run around the eges and gently under the cake to loosen it from the tin.

When cooked, leave to cool for about 5 minutes, then remove from the tin.

When completely cooled, sandwich together with 4 tspns of Waitrose reduced sugar strawberry jam. You can also have whipped double cream for no extra units.
Notes
If you want to add a bit of flavouring, this also tasted nice with a tspn of Lemon Essence, Vanilla or Almond Essence. You could also add 4 tspns of cocoa powder for a chocolate flavoured cake Be aware that if you add any fruit, this will take the carbohydrate content up quite a lot.