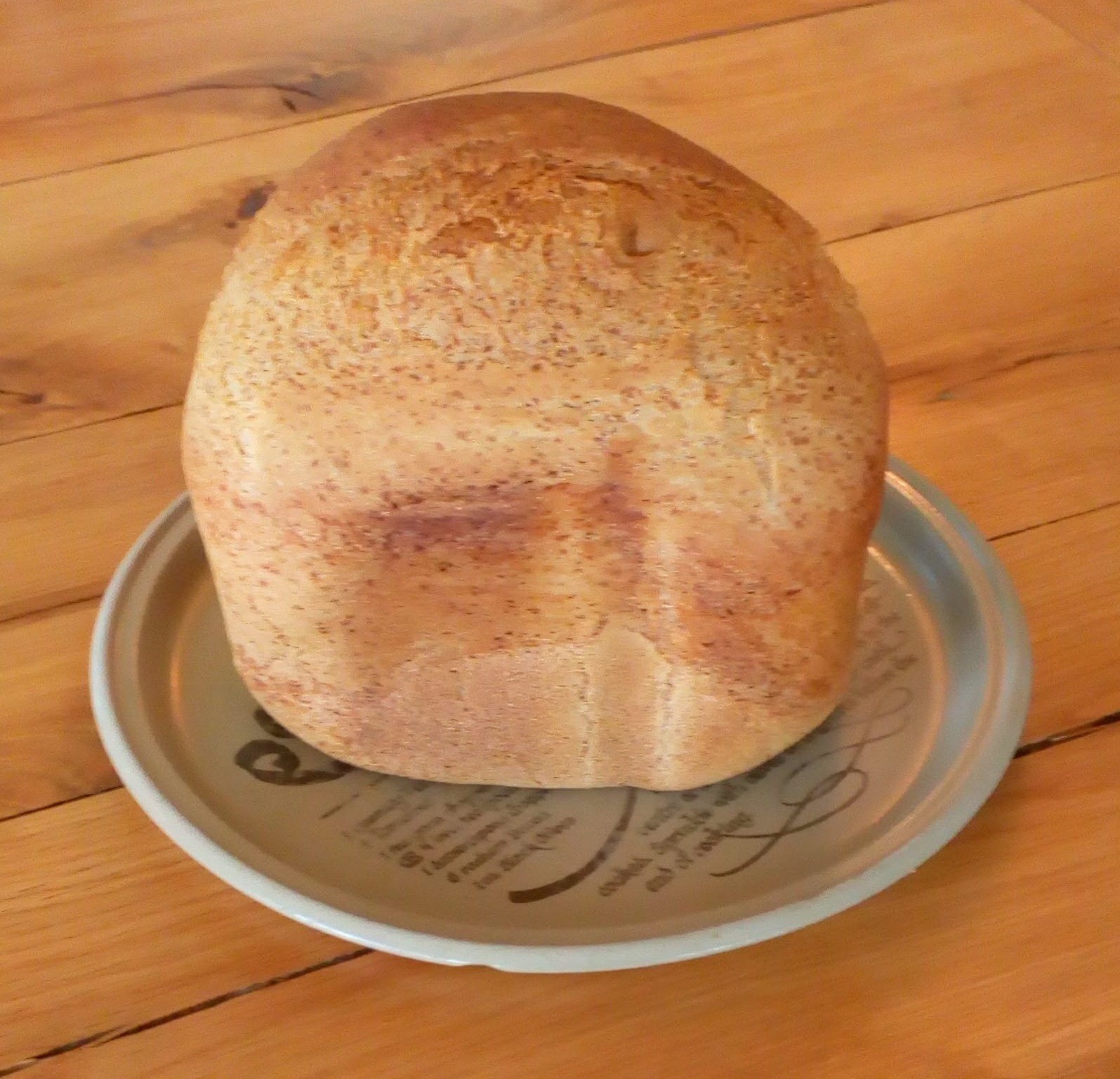 I perfected a beautiful soft gluten free loaf to make and bake in an oven but didn't have much success with making one in a bread machine. I've now managed to achieve this goal and am passing it on to you the reader. I would still advise you to beat the mixture before putting in the machine though as you need to get the consistency just right and that's not an exact science.
The amount of water added will depend on how dry your ingredients are and how accurately you've measured them. But if you'd like to throw everything in the machine, put the liquid ingredients in first, then all the dry ingredients and lastly, the yeast and sugar on top.
Youtube video at the bottom of the page to show the loaf being made
Perfect Gluten free Bread Machine Loaf
This is a lovely loaf, crusty on the outside and soft in the middle, that tastes good fresh or toasted. The soya flour makes it go lovely and brown in the toaster. But if you have an intolerance to soya, you could try a tablespoon of a nut based flour to see if that makes the bread brown. I haven't tried an alternative as yet. Although the time seems a lot, you're not in the kitchen doing anything whilst it's cooking in the machine.
Ingredients
5

ozs Tapioca Flour

see notes at the bottom

7

ozs Doves Gluten free bread flour

½

teaspoon

xanthan gum

1

tablespoon

Psyllium Husks

1

tablespoon

Soya flour

optional if allergic to soya - makes it softer and enables toast to go brown

1

tablespoon

Potato flour

1

tablespoon

egg white powder

1

tablespoon

Quick acting yeast

1

tablespoon

sugar

1

teaspoon

salt

1

egg

80

mls cooking oil

350

mls water

this is approximate, so don't add all at once
Instructions
Put all the ingredients in a mixing bowl being careful not to add all the water at once.

Mix it on a medium speed until the mixture drops off the blades quite easily but not too runny. It should be like a cake batter.

Spoon the mixture into the bread machine tin and set it for a gluten free loaf. My machine takes 1hr 55mins which isn't enough time for the loaf to be fully cooked. It looks cooked but if left, as I have done in the past, the insides will just collapse to the base and when you go to cut it, it will just be a gaping cave. If you don't quite cook it long enough, then it will be sticky.

Once the machine has finished cooking, set it for another 20 minutes of baking. If your machine won't allow you to do this, then you will need to put it in an oven that you have preheated to 180°C.

Whatever you do, don't let the bread stand for a while between machine and oven, it will sink inside.

Once cooked, leave in the tin for 10 minutes, then turn out onto a rack and leave to cool thoroughly before cutting. Don't be tempted to cut a warm slice, again it will sink if not cool enough.
Notes
The tapioca flour is crucial to this recipe and some can make the loaf very sticky, so I use Tapioca flour from buywholefoodsonline.com. You can also buy the psyllium husks and potato flour from them as well
For the additional cooking time, I put my loaf into a halogen oven for 20 minutes because it doesn't have to be preheated.