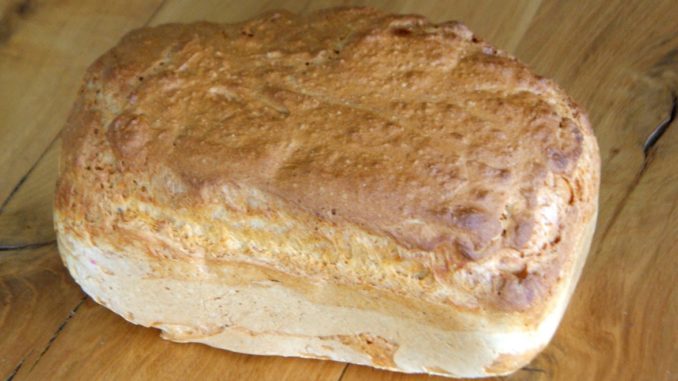 If, like certain members of my family, you can't have Cornflour as well as Wheat, then you have a big problem with all the gluten free products on the market. Just about every item contains corn of some sort and it comes it lots of different guises.
Corn Starch
Dextrose
Dextrin
Maltodextrin
I recently read an article on the internet that some Celiacs can't have corn because it does contain it's own form of gluten. As do all edible grasses.
So, I have had to bake all my own Cakes, Pastries, Bread and other recipes to avoid this problem.
I have managed to master lots of recipes but Bread has always been elusive.
When you bake a gluten free loaf, it generally feels very heavy and gets dry very quickly. There are some lovely breads in the supermarkets these days and the best so far is Marks and Spencer's range. Unfortunately, they also contain corn. We tried them for a while but then my husband started to feel unwell, so I had to go back to baking my 'not so good' kind.
Until now, that is. I've been experimenting with all sorts of flour combinations and hit on the right one this last week.
Most ready mixed flours on the market have Rice flour as the main ingredient and this makes a dry, heavy loaf. Also, when the mixture is heavy, the yeast can't do a good job of making it rise, so the end product becomes very dense and lifeless.
Tapioca Flour and Potato Flour are much lighter, so I decided to try a mix using Tapioca Flour as the main ingredient and, Hey Presto! A perfect, soft and light loaf that actually has a real bread smell about it. I don't have to avoid gluten but it looked so yummy, I had to have several slices, with butter or jam. It also toasts really well, which is another problem with Gluten free bread. My son popped in this morning and seeing his dad's egg and toast asked if he could have some as it looked so good. That was a real compliement, as normally, he likes to cook his own meals. The verdict was a huge 'thumbs up'
So, without further ado, here is the recipe for you to try, either with a bread machine or by hand. It might look daunting but it's actually very easy.
And, I've now found a perfect loaf tin for making this bread. At last a loaf tin in a sensible size with higher sides. And perfectly non-stick.
Click on the image below to purchase on Amazon.
Paul Hollywood by KitchenCraft Seamless Non-Stick 2 lb Loaf Tin, 23 x 13 cm (9″ x 5″)
Yummy light Gluten free bread Recipe
The Ingredients List might be a bit long but it's well worth it for the finished result. You can always mix up the flours in bulk and put into a paper bag (keeps longer that way)
Ingredients – All very easy to obtain from the internet (Ebay were the cheapest) or from Buywholefoods Online
The Best Gluten Free bread in the world – Probably!
This is a fantastic, soft loaf. Gluten and corn free which lasts at least a few days. Crusty on the outside, soft in the middle
Ingredients
12

oz

Tapioca Flour

3

oz

Rice Flour

2

oz

Potato Flour

90

ml

Oil

vegetable or olive

2

tspn

Glycerine

2

tbsp

Psyllium Husk

Improves elasticity

3

tspn

powdered egg white

or fresh egg whites

1

tbsn

Quick Yeast

2

tspn

Sugar

2

tspn

Fructose

Bread improver Optional

1

tspn

Soya Flour

this will make the bread brown easier or Substitute for Buckwheat flour if Soya Intolerant

1

tspn

Salt

1

tspn

Xanthan Gum

replacement for Gluten

400

ml

water

or, add water until it's the consistency of mashed potato or cake batter
Instructions
Directions
Mix all the dry ingredients together thoroughly, add all the wet ingredients and stir in, then beat with a food mixer for a minute. If it's not the consistency of Mashed Potato/ sloppy batter, gradually add small bits of water.

Put the mixture into a greased 2lb loaf tin. Deep sides are best as the mixture can run over the edge when it rises. Cover with cling film or a clean tea towel, leave in a warm place for approximately 30 minutes, when it's risen by about a 1/3rd. Don't be tempted to leave it longer thinking it will be a larger loaf as it will either sink in the oven or, end up with large holes and fall apart.

Preheat your oven to 180°C, 350°F, Gas Mark 4

Bake in the middle of the oven for approx 1hr 20mins.

Leave in the tin for about 10 minutes before turning out. If it feels too soft, put back in the oven for another 10 minutes on a baking tray until it's a bit firmer. If you don't do this and you try to cut it once cold, it might be sticky inside. Also, the inside might collapse and you'll just have a cave of crust. I've done this myself on occasion.

The amount of water may vary slightly due to dryness of ingredients weather and slight mis-measuring, so don't add all at once.
Notes
A beautifully soft and light gluten, corn free loaf that toasts well too.
Note: Not all Tapioca flour is the same. I've tried a few different ones and always come back to the Tapioca flour from Buywholefoodsonline.co.uk. They also sell it on Amazon.co.uk
If you have any problems, just email me and I'll be pleased to try and help.