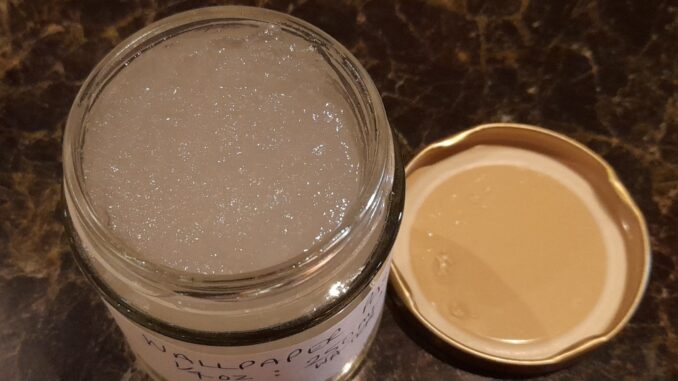 I wanted to mix up a small jar of Solvite wall paper paste for a craft job. Actually it was to glue some hessian on to hardboard for a background to an engraved leather heart, which I sell on Etsy and Pictures on Wood
I tried searching on Google but only got answers to mix up a bucket full and noticed lots of people were asking the same question with no answer, so I got out my calculator and worked it out.
The bag seemed to weigh about 200 grams, so for the middle strength mix, for simplicity, I kept halving the weight of Solvite and the amount of water needed until the water came down to 250mls, (or 1 cup, 10fl ozs, 1/2 pt) which is the small jar in the picture. So, it ended up to be a 1/4 oz of Solvite, or 12.5 mls if you're metric. Or, about a tablespoon. It doesn't have to be totally precise.
To make a nice smooth mix, poor your water into a small bowl and gently sprinkle the Solvite over the top. I didn't need to stir it, it sank into the water beautifully and then after a minute or so had thickened up nicely.
I then just put it into my jar to use as required.
And it stuck the hessian to the board perfectly too.