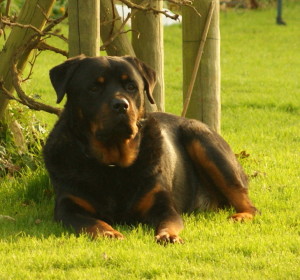 I said I wasn't going to have another Rottweiler but then I saw Diesel at the RSPCA and it was Love at First sight. We went down there because after we got Millie as a playmate and companion for Jed but he didn't really want to know. He was still grieving after losing his best friend Annie. Jed became quite insular and aloof and it has taken him nearly five years to become a loving dog again.
So, we decided to get a playmate for Millie. I assumed we would get a medium sized lively little thing similar to her. Millie is a X Collie/Labrador. But then I saw Diesel. My husband had already met him and wanted him but I was adamant I wanted a smaller dog and also, walking two rotties up our lane might make people turn and run the other way. Anyway, we looked at the dogs in their kennels, feeling sorry for them all but not falling in love with any in particular. Diesel was no where to be seen, so my husband thought he'd already been rehomed.
We were just about to leave when he came walking in with a kennel maid, having just been for a walk. He just walked proudly along like he was the King of the Kennels. All the dogs barked at him as he walked past them but he didn't look at them or bark back, just strolled nonchalently back to his kennel. I just turned and ran after him. I couldn't help myself. So, that was it really. We brought Jed and Millie to meet him. They all ran around together – even Jed and when it was time to go, I opened up the back of my Mini and they all jumped in together. So, Diesel chose us.
He was already 5 years old. Very lazy and strangely brown and fluffy for a Rottie. His eyes looked pink and tired and his teeth were not very clean. All in all he obviously hadn't had a great diet, or exercise.
We live in the country, so I think it must have been the first time Diesel had seen rabbits and sheep. He couldn't believe his eyes and this huge dog with a deep bark made high pitched squeals of happiness when seeing exciting new things. As he was so unfit, when we let the dogs out into the garden, Jed and Millie would be down the garden and back before Diesel had left the patio. But within a couple of weeks, he was amazingly fit. His brown coat had gone and he turned a beautiful polished black.
His eyes seemed to change and his teeth became clean and white from eating hide chews. He was so handsome. And he could jump very high from a standing position. Like a Harrier jump jet. He was sprung loaded and could easily spring over a fence. It was amazing to watch. And the best thing was, Millie and Diesel were best friends. They were always together and she would tell him off if he got too rough. He just did as he was told.
Unfortunately, a year or so later, he developed arthritis in his front left elbow which was operated on by one of the vets at the Supervet's place – Fitzpatrick's Referrals. We were told to not let him run around, which was very difficult with a very large garden and a dog who wanted to bounce everywhere. We fenced off the Orchard to make the garden shorter, so that slowed him down a bit and as his arthritis got worse in other parts of his body, he naturally slowed down anyway. His main love was apples. He was addicted to them – standing up in the trees to pick them as soon as they started appearing, the size of walnuts. Unfortunately, they didn't agree with his digestive system, so that was another reason for fencing off the orchard. He would stand down there looking longingly at the apple trees and occasionally find a way through. That summer he developed Gastro Enteritis and nearly died. He spent a long weekend at the vet on a drip and morphine for the pain. It was touch and go for a while.
Diesel just loved other dogs. When we went out for walks, he would spot a dog in the distance and have to go over to see it. He was never aggressive and if another dog had a 'go' at him, he would run away. It was so funny to see such a gentle giant. He was a real ambassador for the Rottweiler breed.
We decided to take him to Hydro therapy but he absolutely hated it. A shame because it was doing him good. All the time, he would look at me as if to say "Save me". One day, the hydro therapy seemed a bit much for him and he became extra stiff, so I took him to a local vet who performed acupuncture on him. That worked amazingly well, so I stopped the Hydro therapy as he hated it so much and took him to acupuncture every two weeks.  We thought he wouldn't make it through that winter (two winters ago) but he did and was full of life all through the summer. Until this winter when he started a new limp on his right leg, which had always been the strong one.
The limp got really bad at the beginning of February and I was convinced he had bone cancer (we've lost two dogs to that in the past) He had an X-Ray of his whole front leg but there was nothing to see. Later on, whilst giving him a massage, he flinched when I pushed on his shoulder blade. So I thought it must be something like tendonitis in his shoulder. It didn't get any better, so we went back to the vet and he referred Diesel to a Specialist. On Wednesday 2nd March I took him to the specialist and after pushing and prodding Diesel around he gave me the shocking news that he thought he had a tumour behind his shoulder blade. I coudln't believe it.
We booked him into the vet for a CT Scan on Saturday 5th March but he didn't make it that long. The very next day, he suddenly couldn't walk on the bad leg. We rushed him off to the vet and they scanned his shoulder. We had the fateful phone call at 7.00pm that it was bone cancer. An Osteosarcoma in his shoulder blade. I saw the CT Scan results and his shoulder blade look like lace work where the tumour had eaten it away. How he kept going for so long, I don't know. Just his love of life and food. The only treatment would be amputation and there's no way he could have dealt with that, so we went down there to be with him whilst he was euthanised.
Our beautiful bouncing bear was gone and has left a hole in our hearts, the size of his huge head.
Diesel didn't like women. I don't know if he wasn't well treated in his first home but he would flinch if you raised a hand for any reason. He was the most beautifully behaved animal and we never had to shout at him, so why anyone would hit him I don't know. He never really lost his fear of women but he worshipped the ground I walked on. From day one, until his arthritis became too bad, he would follow me everywhere. He was my shadow. And in the evening, he would just lie on the floor watching me as I watched the TV or whateve else I was doing.