Quite easily actually
Chances are you've been looking on the website and found lots of confusing information on starting an online store. You will have seen adverts for the likes of Godaddy, Magento, Wix or Shopify etc., who charge you a monthly fee for using their services. All these outgoings are going to lessen your profits. It's nice that these websites can be used to easily set up a web shop and have easy to use interfaces but there are other ways which are a lot cheaper and are not as scary as you may think.
When the internet was in it's infancy, I wanted to learn how to make a website, and did this with a free CD that came with PC Advisor or similar magazine called 'Splash'. I registered with Tiscali for a home page and got to work with this new confusing world.
Then I discovered PayPal buttons and decided to make a shop, selling my pyrography items. I couldn't believe it when I got my first order for 4 wooden coasters with pictures of animals on each one. I was over the moon.
From then on I was hooked on making websites and learning all I could about them. Back in the late 90's there wasn't so much competition, so it was far easier to get on page 1 of Google for something unique. I started making personalised gifts back then and ended up working 7 days a week.

Since then of course, millions of people are selling personalised gifts, so the competition has hotted up. That's when you need to use SEO which you can read about on my other post How do I get on the first page of Google
Anyway, back to the subject in hand.
Get yourself cheap Web hosting and buy a domain name.
Personally, I love Vidahost.com. I used Easily.co.uk for many years but their account management left a lot to be desired. This may be better now but I have moved on and Vidahost are so helpful. They generally answer your support questions within 15 minutes, or you can phone them for more immediate help. They will also move existing websites for you for free. I can't praise them enough.
If you haven't got 1000's of products for sale, then you will just need the starter package at £29.99 per year. And as your online business grows it can easily be upgraded. This will allow you to run three websites and have loads of email addresses. If you want to join Vidahost, you can use this code AL10 and get 10% off by clicking this link. Vidahost Packages
If you need to buy a domain name, enter your website name ideas in the search box under the 'Domains' tab. It will give you a list of available options and if they're available. If you're in the UK and your products or services are targeted in the UK, then it would be best to have a .co.uk domain. If, however you want to sell internationally, then choose .com.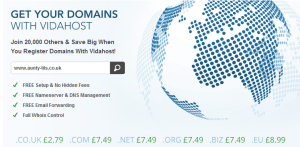 Domain names are very cheap to buy (from £2.79) unless you find something with a very short name that would be in demand. But most of those have probably already been taken anyway.
When you sign up with Vidahost, you will be sent usernames and passwords for managing the admin side. Don't let this scare you. They are always there to help novices and have lots of positive feedback from customers.
They will email you sign in details for cPanel or FTP. Just use the cPanel log in if you don't undertand FTP at this stage. This is where you can manage your new domain, email addresses and add your website.
Once you've logged in, you'll be presented with this page:
Don't let this worry you. Most of the stuff on here, you'll probably never need.
If you click on the Softaculous link on this cPanel page, you can choose an ecommerce shop to be installed. Personally, I like Opencart, as you can get add ons for all sorts of useful things from the Opencart website. My most useful extensions are the CSV import and CSV export modules from Karapuz. With these modules, you can import a csv spreadsheet of all your products and descriptions without adding them to the website one by one, which takes a long time when you have 100's of products. You can also get Facebook Plugins, 100's of different themes, which you can also buy on Themeforest or Bossthemes. Twitter plugins and blogs, to name but a few. There are literally thousands of extensions. Some free and some you pay for.
But if you want something else like Cubecart or Magento for example, just click on the link and it will be installed automatically. Softaculous will send you log in details and off you go, making your website for a very small cost. Approximately £40 per year all in.
Setting up Email addresses
Now you've got your new domain name, you'll probably want the email address to go with it.

In cPanel, go to the section entitled 'Mail' and click on 'Email accounts"
choose the email address you would like, create a password and click 'Create Account'
Once you've done that your new email will appear in a list like this:

Click on the 'More' tab and then 'Configure email client' you will get a list of email accounts (image below) you can add your email address to automatically

Or, if you'd like to set it manually in a client like Thunderbird, you will see these instructions:

If you don't want the faff of adding your new email address to your email client, then you can just have it forwarded to your normal email address. Just click on the 'Forwarders' link. Choose and email address for yourself, the put in the address you would like it forwarded to. Example shown below:
If you want any help or advice in setting up your new website, I would be pleased to give you some free advice. Just add your comments below and I will endeavour to answer your query within 24 hours.