I've ordered myself a few drought tolerant plants this morning from Crocus. They will go very nicely in my meadowy border where I am growing ornamental grasses, Daisies, Day Lilies, Red Hot Pokers and other tall plants.
The idea is to interweave them all in a slightly chaotic but planned way, so they all billow in the breeze during mid to late summer.
I saw a stunning border in this theme on Gardeners World last year and just had to try and copy it. The only trouble is, the rabbits seem to have different ideas.
More:
I have lived here for 15 years and only last year, the rabbits have become real pests in my garden. They've never touched my plants in the past (which I didn't expect) and now they seem to be eating anything and everything. My Achillea 'Cloth of Gold'  has all but vanished as have my Shasta Daisies. The rabbits nibble off the nice tender new shoots and dig down beside the roots.  If I'm not vigilant enough, the plants die when it's dry weather where the roots just dry out. So annoying. I suppose I should be grateful of the rain, so they stand a better chance of survival. I'm going to have to protect them next year to give them a better chance.
When it's more established, I'll upload some photos.
// <![CDATA[
var uri = 'http://impgb.tradedoubler.com/imp?type(img)g(20455078)a(2142584)' + new String (Math.random()).substring (2, 11);
document.write('
');
// ]]>
There's a similar border advertised on the Crocus Website if you're interested:
Cottage Garden Scheme with Grasses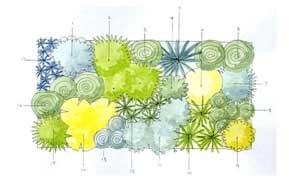 Open border plan Soft tones blend together and provide a long-lasting display through the summer. This border is quite heavily planted so you will get a billowing effect once the plants have all started to reach maturity.
Planting tips:Dig in loads of composted organic matter before you plant and water well during dry spells. Be prepared to cut back the flowers when they have finished flowering
You will need a sunny border measuring 2m by 4m.
// <![CDATA[
var uri = 'http://impgb.tradedoubler.com/imp?type(img)g(20443398)a(2142584)' + new String (Math.random()).substring (2, 11);
document.write('
');
// ]]>